Moving Up Without Paying More
Moving Up Without Paying More
Read this family's story of moving into a bigger home without having a bigger mortgage payment.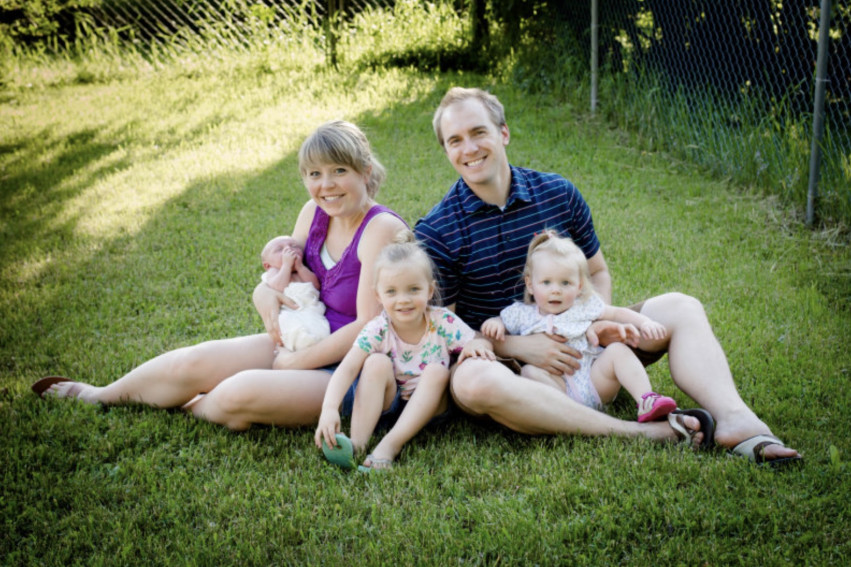 A Growing Family
Was it possible to have a bigger home without increasing your mortgage payment? Adam and Kirsten Barlow asked this question. The Barlows are teachers and have a family of 5, a cute dog, and some other fun pets. They first met Leslie a few years ago. At that time, they were looking for their first home. The market was competitive. The Barlows missed out on several offers before finding the right place.
The home they finally did choose was perfect! The seller was the original homeowner. She and her husband had built this custom home 40+ years earlier. Inside you could find hardwood floors and built-in cabinets. The place had the right layout. It was in a convenient neighborhood. It even came with a bonus screened porch. The porch overlooked their backyard. They knew it was the ideal place for a playset. Adam and Kirsten got to meet the original owner. She gave them several great vintage items that they found in the home. The Barlows bid over the asking price. The seller accepted Adam and Kirsten's offer out of 9 that came in.
At that time, Adam and Kirsten had one daughter. Now, three years later, they had two daughters with a third on the way. They were running out of space for everyone! They no longer had enough bedrooms. Their kitchen was too small for everyone to fit in. They realized that as their family grew, these things would become issues. They loved to invite their family over for birthdays and holidays. They knew that more space would provide more opportunities for this.
They reached out to Leslie. They wanted to find out what price their home could get if they sold. They wondered if they could move into a larger home. They hoped they could move without increasing their mortgage payment.
Deciding to Sell
It was a bittersweet move for them. The Barlows had made so many happy memories in their first home. They had planned to stay there for several more years. It was going to be hard to leave. Still, they realized this was a seller's market. They found that their home had gone up in value. It made financial sense to at least find out their options.
Adam and Kirsten got approved for a mortgage. They staged the home staged and got it ready to sell. They decided that if they could sell for the right price, it would make sense to move. They were flexible on location. So, they knew they could move further out and get a much larger home for almost the same price as theirs.
In a fun happy ending, Adam and Kirsten wound up selling to a young newlywed couple. These buyers had also missed out on several other offers. They had grown discouraged by the fast-moving market. They loved the care Adam and Kirsten had taken with their home. They were so happy to buy the home for the price Adam and Kirsten needed.
Finding the Perfect Home
With an agreement to sell in place, Adam and Kirsten set out on their next home search. This time, they won their bid on the first home they chose. There were 13 offers submitted on the house, but Adam and Kirsten got it! They found a home further out of the city with every item on their checklist. They knew it was a place that could provide the space their growing family needed. The house was twice as big as their first one. Every child had a bedroom. Hours of fun awaited in the huge fenced backyard. The community had a welcoming, small-town feel.
In their words, "We had the opportunities to work with Leslie to find and purchase our first home and again three years later when we needed to sell and purchase a larger home for our growing family. We have loved working with Leslie as she was always flexible, professional, and personable. We will continue and strongly recommend Leslie for any Realty needs. Thank you Leslie!"
With the profit from the sale of their first home, Adam and Kirsten were able to make the move they wanted. Their flexibility in location helped them buy at the right price. Their hard work in preparing their home was a key too. They were able to make a good profit from their home. They used it for their down payment. In the end, they met their goals. They wound up in a bigger home without increasing their mortgage payment. They found a house that will make a wonderful home for their family for years to come.